She'sWrite
Wednesday, July 11, 2012 at 8:50AM
I have crossed another milestone as a parent. My firstborn has graduated ... From preschool.
I remember before I had kids, I thought, sheesh, what's up with all of these graduations? Preschool, Kindergarten, sixth grade, eighth grade and finally high school??? I have had two graduations: High school and college.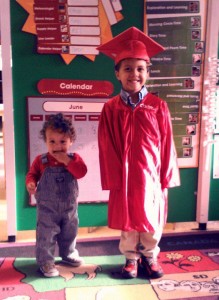 But then I got the notice that our daycare was having a ceremony for all the kids who were going to start kindergarten in the fall. I stopped rolling my eyes about preschool graduation and now, I found myself getting excited.
Hubby got off work early so we could attend the Friday evening event. Logan was so excited, he could not stop jumping up and down. The school even gave him a red cap and gown to borrow, which was cute. Silly? Yes, but really very cute.
Then the kids put on a program for the parents. Of course this meant all of us parents had to squat on those impossibly small kiddie chairs. Seriously, why bother offering us a place to sit when only half of my butt fits on the seat?
I digress. Back to the program … All of the songs I've been hearing around the house about Johnny working with hammers or apples and bananas or sharks and dinosaurs, now I got to hear them in stereo and with the appropriate hand movements.
Then the highlight came. Dance music started thumping from the boombox and the kids broke into a choreographed jam session. I was surprised and those kids worked it out, even doing a little Kid n' Play action. There was a segment where each kid came to the front and did their favorite dance move. Logan's was a modified Batusi … Think Uma Thurman in Pulp Fiction but instead of a "V" over her eyes, Logan's index fingers do a dramatic wipe right above his eyebrows. What really makes this move spectacular is the serious-as-a-heart-attack look on his face.